The USRP hardware is controlled through the libusb-win32 user-space USB driver. If you have not already installed this driver you will have to download and install it. It is suggested to use the pre-packaged version, including an INF-File for the USRP, which can be found at the download site of the Institute für Nachrichtentechnik (INT). Alternatively, you can download the driver from the libusb-win32's homepage at SourceForge - in this case you need to create the INF-File by yourself. See the weblinks page for download adresses.
After plugging in and powering up your USRP, point Windows to the folder into which you downloaded and extracted the pre-packaged driver. When you start Simulink-USRP for the first time, you might have to repeat this step once. This happens when the USRP's firmware has been loaded into the microcontroller. If everything works, you should see the USRP in the device manager: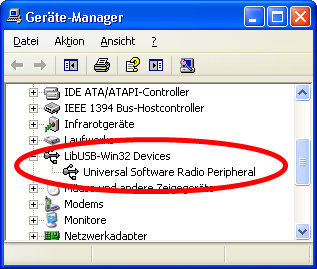 If Windows does not ask you for the driver, go to the device manager and delete any previous installations of a USRP driver you might find. If you want to keep an existing driver, this should work fine. However, if you should encounter any segmentation faults, it is recommended to install the pre-packaged driver.